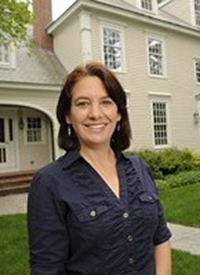 Anne-Marie McKenzie, Lead Agent
Anne-Marie McKenzie has been a top-selling broker in greater Portland since 2003. She prides herself on problem solving, negotiation skills and attention to detail. She knows the workings of the greater Portland real estate market and with her vast real estate connections, has the expertise and resources needed to ensure a smooth sale.
As a resident of the State of Maine for over 45 years, Anne-Marie attended Cumberland schools and has traveled extensively throughout the state. Like many Mainers, she has a passion for the outdoors, which was fully discovered while working at LL Bean for 13 years. She's an advocate for green design & conversions, is a Certified EcoBroker and an accredited Home Staging Specialist. Her aggressive marketing approach is in place to help her sellers make more money in less time.

Rosemary Fecteau, Buyer Specialist
Born in Wisconsin, Rosemary and her husband Jack lived in six other states. Rosemary is a 35 year resident of North Yarmouth. Before entering the real estate profession, she spent thirty years as a teacher, administrator, educational consultant, and author. Her educational background includes a BA, MSEd, MSEdAd, and PhD.

She enthusiastically entered the real estate profession in 2005 as an associate to Anne-Marie McKenzie (her daughter). Her real estate clients are her priority, and working with Keller Williams Realty provides the ideal and special environment that reinforces customer/client sellers' and buyers' goals as the mission of the agency.
Personally, she delights in her family of six children, their spouses, and watching and participating in the beauty of twelve grandchildren as they grow to young adults. Rosemary has also been actively involved in community and state government.

Ashley Wing, Buyer Specialist
Taking great care of clients is nothing new to Ashley Wing. Prior to entering real estate, Ashley enjoyed an 11-year career in the service industry. Having worked with a wide array of people, Ashley knows how to listen, is generous in offering information, and more importantly, knows when to stop talking. Her main intention is to understand her client's needs and build a relationship that will last over the course of time. As a full time Buyer Specialist she will work hard to lower your stress level and make your experience as pleasurable as possible.
Ashley Wing was born and raised in Portland, Maine. When she is not selling real estate, Ashley enjoys being out on Casco Bay sailing and boating with friends. She has a passion for cooking, using vegetables from her own garden, and creating her own recipes.


Denise LaFrance, Licensed Executive Administrator
Denise LaFrance has over 30 years of office management experience and is a licensed agent. She is dedicated to providing world class service to her team's clients. Denise is responsible for contract compliance and processing, marketing and making every transaction as seamless and efficient as possible.
Denise is a Maine native having been born and raised in Sanford. She and her wife Sherry now reside in Greater Portland and in her free time, she enjoys gardening, reading and the time spent with family and friends.